LINDSEY CRAIG is an award-winning author of many wonderful children's books including DANCING FEET! and FARMYARD BEAT! (both illustrated by Marc Brown), as well as her most recent books: OH SO QUIET!, TRY! TRY! TRY! and IN OUR TREE.
Ms. Craig has been awarded KIRKUS BEST CHILDREN'S BOOKS 2016, Best Books for Kindergarten 2017 by We the Teachers, NAAPA PARENT'S CHOICE GOLD AWARD, Wilde Awards Best Children's Books, Fred Roger's Best Baby Books 2011, and included in Texas 2X2 reading list.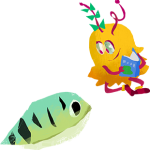 She has also received excellent and starred reviews from Publishers Weekly and Kirkus, and was featured in the New York Times Book Review. Her two newest books: SILLY SCIENTISTS TAKE A PEEKY AT THE SOLAR SYSTEM! and SILLY SCIENTISTS TAKE A TIPTOE WITH THE TADPOLES! will be available January 2018. Lindsey lives with her husband and fat cat Boris in Washington State.