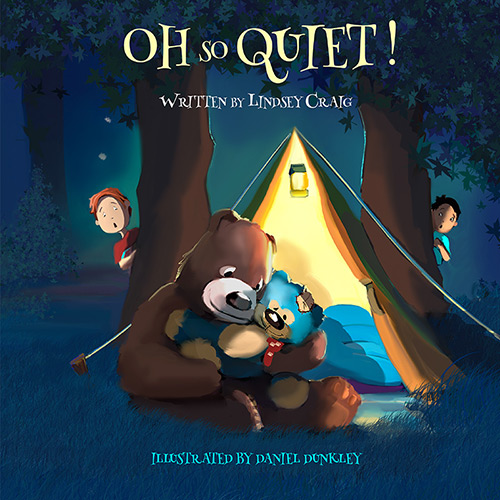 Oh So Quiet!
by Lindsey Craig,
Illustrated by Daniel Dunkley,
2016, Owlbop Publishing
ISBN-13: 978-0996721202
Buy From Amazon
Buy From Amazon
Buy Autographed Book
Buy Autographed Book
We The Teachers—Best Books For Kindergarten 2017
Kirkus—Best Children's Books 2016
It's not always easy to get kids outside, but OH SO QUIET! may just tempt the wee ones on an adventure. The nighttime forest comes alive with Daniel Dunkley's indigo lit illustrations. And Lindsey Craig's chant-like text will have children turning the pages to find out what's waiting outside the brave camper's tent. "The forest is so quiet, oh so quiet in the night…UNTIL!" Is it flapping bats? Squeaking mice? Or even a BEAR!? OH SO QUIET! will make for a giggly read and a favorite camping book for the whole family!